Do you want to age in place? Most of us want to remain independent in our homes as long as we can. When you remodel through the years, make a few simple changes.Because this  can help you continue to live comfortably in your home as you age.
Additionally, the same changes can also make your home more marketable if you decide to sell because your home will appeal to buyers who need accessible homes as well as those who don't.
What The Data Says
A recent study from AARP and the Harvard Joint Center for Housing Studies found that much of the nation's housing inventory lacks basic accessibility features. And by adding these features, it will help older people, especially those with disabilities, live safely and comfortably in their homes.
While you may not currently have a disability, in the future you very well may. In fact, 56.5 percent of women and 45.3 percent of men age 65 and older have some sort of disability.
What Can You Do?
Here are some things to consider as you remodel your home over the years:
Replace your door knobs and faucets with lever-style handles. Arthritis and rheumatism are very common causes of disability. By using lever-style handles it's easier to use than round knobs.If you're considering knocking down or moving walls, try to make the doorways 36″ wide. Consequently, wheelchairs will easily be able to get through.
If you remodel the master bath, remove the bathtub. You probably never use it so replace it with a walk in shower. Also, don't forget to add a grab bar.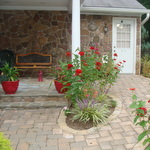 If you make exterior improvements, try to remove steps. A ramp entry can be beautiful as well as practical if it flows naturally with your landscaping.
Comments? Contact me. Are you ready to buy or sell a home? Contact me