Let Bunny Reiman – Realtor in Marlboro NJ help you search the homes and real estate for sale. Whether you're a buyer or a seller in Monmouth County, let us help you.
About Homes For Sale in Marlboro NJ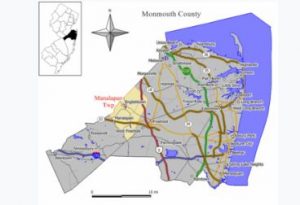 Marlboro was formed in 1848 from portions of Freehold. The town is named after marl , which was an early form of fertilizer. Marlboro's first industry was the export of marl. Marlboro was the scene of a number of skirmishes during the Revolutionary War. Beacon Hill, the second highest point in Monmouth County, served as one of 23 state-wide warning beacons, which were used to signal local militia of a British invasion. A large pyramid of logs was filled with brush and lit, and the fire could be seen throughout the area.
Homes

The homes in Marlboro NJ range from small, pre-manufactured homes to large, luxurious homes. Additionally, there is every conceivable type of home in between the two extremes. Homes can be purchased from around $100,000 to well over $1,000,000. You'll find new construction, older homes, ranches, colonials, split level homes and, well, every type.
During 2019, 371 single family homes were sold in Marlboro. The median sale price was $560,000.
The 2010 Census showed there were 40,191 people living in Marlboro NJ, with over 13,000 housing units. Most are single family homes, however there are also 5 condo complexes and 4 active adult communities. In the northern part of Marlboro, a section of Marlboro called Morganville has it's own post office and zip code. Three of the condo complexes are located in Morganville. The Census also showed that the median household income was $130,400, and the per capita income was $50,480.
Education
The Marlboro Township Public School District provides education for K-8 students. There is 1 pre-school, 5 elementary schools in addition to 2 middle schools. High school children will attend one of the six high schools in the Freehold Regional High School District. Children will attend the high school according to boundaries set by the district and most, but not all, will attend the school in their town.
There are specialized Learning Centers in each of the six high schools. Students who are talented and highly motivated are eligible to enroll in one of these unique programs. However, there is a competitive admission process. Accordingly, all students who apply will not be admitted. Students who are admitted will have that school as their permanent school. Some of the available programs are Global Studies ad Culinary Arts & Hospitality Management.
SAT scores at all of the high schools consistently exceed state and national averages. More than 87 percent of the district's students pursue higher education.
Optionally, when students enter high school they may also apply to one of the five high schools in the Monmouth County Vocational School District. Specialized, full time courses are available, some of the fields communications, biotechnology and more. Also offered are shared time courses in Allied Health and HVAC , among others.

Dining and Shopping
Route 9 serves as the major shopping and dining locations. The shopping area continues south on Rt 9 into Manalapan and Freehold, and has many restaurants to choose from. There is a major mall in Freehold, and another in nearby Eatontown. Smaller shopping areas and restaurants are located in the center of town on Rt 79 near Rt 18.
Entertainment
Marlboro offers free outdoor concerts during the summer, and free monthly indoor concerts at the recreation center. It's also the home of the Marlboro Players, a private theater group. You can also enjoy live music at the nearby Freehold Raceway Mall Summer Concert Series, or the weekly free concerts in Freehold Boro. Also concerts are at iPlay America, an indoor Theme Park. Nearby, Red Bank's Count Basie Theater has concerts and shows, and also there are plays at the Two River Theater. And Freehold Boro has a great Memorial Day Parade, plus other festivals throughout the year.
Don't miss the high school musicals in the spring. Six Flags Great Adventure in Jackson is a short ride away. Visit the movie theaters in Raceway Mall and on Route 9. Don't miss the fireworks display at Freehold Raceway, or go to the races which feature live harness racing for trotters and pacers. New York City is less than 2 hours away by car, take a bus or catch a train from Matawan. If you prefer, Atlantic City is less than 2 hours drive. And, the beaches at the Jersey Shore are about 30 minutes away!
Parks and Recreation
There are many parks in Marlboro NJ. Two sections of the Henry Hudson Trail are in Marlboro, with plans to connect the two trails, eventually offering a walking / bicycle path from Freehold to Highlands. A few miles away, the Manasquan Reservoir has a 5+ mile nature trail going around the water. Marlboro offers a summer camp program for grade school children.
Monmouth County has 8 public golf courses, in addition to many private country clubs.
Boating enthusiasts can find marinas nearby, and the beaches on the Jersey Shore are within a short drive.

Commuter Info
It's an easy commute to New York, because commuters can use bus service along Route 9. Indeed, many homes are within walking distance to the Route 9 buses.
In addition, NJ Transit offers service to Port Authority, Newark, Jersey City. And Academy Bus Line has service to lower Manhattan. However, many commuters prefer to drive to Matawan to ride a New Jersey Transit train to New York.
When it's time –
to either buy or sell a home in Marlboro, give us a call. Because, whether you're buying or selling, we can provide you with the highest levels in real estate expertise and professionalism. So do like hundreds of our clients have done and allow us to guide you through the process! Call Bunny and Art Reiman – Realtors.
The Real Estate Market in Marlboro
During 2020, 426 single family homes have been sold, with a median selling price of $632000.
Recently Sold Homes
| MLS # | Status | Address | Price | Sold Date | Bedrooms | Taxes | # Car Garage | Basement | Rooms | Fireplace | Apx Year Built | Pool | |
| --- | --- | --- | --- | --- | --- | --- | --- | --- | --- | --- | --- | --- | --- |
| MLS # | Status | Address | Price | Sold Date | Taxes | Bedrooms | Total Baths | Elementary School | Middle School | High School | |
| --- | --- | --- | --- | --- | --- | --- | --- | --- | --- | --- | --- |
1
22119633
C
48 Tennent Rd
$380,000
09/10/2021
6,296
2
1
Marlboro
2
22123159
C
31 Baldwin Ave
$400,000
09/20/2021
6,217
3
1
Frank Defino
Marlboro
Marlboro
3
22122731
C
27 Warbler Rd
$480,000
09/20/2021
8,205
3
2.1
Frank Dugan
Marlboro
Marlboro
4
22115855
C
5 Julian Way
$615,000
09/22/2021
4
3.1
Frank Dugan
Marlboro
Marlboro
5
22125054
C
36 Samantha Dr
$650,000
09/23/2021
10,890
4
2.1
6
22110573
C
28 Calder Ct
$665,000
09/16/2021
11,130
3
2.1
Marlboro
Marlboro
Freehold Regional
7
22123804
C
46 Heron Dr
$689,000
09/13/2021
12,088
4
2.1
Frank Dugan
Marlboro
Marlboro
8
22125053
C
91 Cannonade Dr
$785,000
09/10/2021
9,408
4
2.1
9
22117877
C
14 Andrews Dr
$820,000
09/10/2021
13,199
5
2.1
Frank Dugan
Marlboro
Colts Neck
10
22122724
C
17 Robinson Rd
$925,000
09/10/2021
4
2.1
11
22117507
C
6 Colony Dr
$950,000
09/17/2021
24,983
6
4.1
Frank Dugan
Marlboro
Colts Neck
12
22113627
C
419 Fawns Run
$1,211,000
09/14/2021
5
5.1
Frank Defino
Marlboro
Marlboro
13
22119448
C
2 Blake Dr
$1,375,000
09/24/2021
24,105
6
6.1
Frank Dugan
Marlboro
Freehold Regional
14
22114747
C
439 Fawns Run
$1,400,000
09/15/2021
24,905
5
4.1
Frank Defino
Marlboro
Marlboro
15
22118491
C
205 Doe Trl
$1,510,000
09/20/2021
21,250
5
5
Frank Defino
Marlboro
Marlboro
More About homes for sale in Marlboro NJ
Let Bunny Reiman, Realtor in Marlboro NJ help. Search the 3 bedroom homes for sale in Marlboro NJ and the Zillow homes. FInd 4 bedrooms luxury homes in MOnmouth County. Look for 5 bedroom homes in Marlboro. FInd 5 bedroom homes in Morganville NJ. Search to find three bedroom homes for sale in Marlboro NJ and four bedroom homes for sale in Morganville NJ. . Search for marlboro nj real estate.
Would you like to either buy or sell a home? How about a 3 bedroom house in Marlboro, a 4 bedroom house in Marlboro or a 5 bedroom house in Marlboro? you can find all of these and more. Or would you prefer a 3 bedroom house in Morganville, a 4 bedroom house in Morganville or a 5 bedroom house in Morganville? You can also search for homes for sale in Morganville and homes for sale in Marlboro. Maybe you want a 07746 homes for sale or a 07751 home for sale? Possibly a 07746 house for sale or a 07751 house for sale? FInd the marlboro nj real estate.
Mortgage Rates
Will you be applying for a mortgage? If yes, which type of financing should you use, Conventional, FHA or VA?
If you qualify for all 3 types, choosing VA financing is a no brainer. Why? Well here are the 30 year fixed rates as of 8/4/21. Plus – you can buy a home with a zero down payment. Because of the low 30 year rates, which are around 3.0% or less, you should buy a new home today! Furthermore, you can choose one of the 66 homes for sale in Marlboro. Asking prices begin about $349000 and go up to $7500000. Also, the median asking price is $780000, which is about 2186000 Kyrgyzstani som. In addition, 44 homes are under contract.
More About Homes in Marlboro
People like Marlboro because of the location. There is a lot to do in town, and also in the area. And many people like the fact that since it's an affluent area, their children will grow up and be friends with children of other affluent families.
You can find ranch style homes for sale in both Marlboro NJ and in Morganville NJ. Also, you can find colonial style home for sale in Marlboro and colonial style home for sale in Morganville NJ. Or how about real estate in Marlboro or real estate in Morganville? Also, some of the popular developments are whittier oaks,monmouth heights,the woods, parc chateau,marlboro knolls, eagles nest, triangle estates. Furthermore, others are beacon woods,buttonwood acres,country hills,fawn valley hills,kensington gate,marlboro estates,marlboro knolls. In addition, winding brook,woodbury oaks,wynnecrest manor, marlboro woods, paddock club,prides crossing,triangel oaks.
marlboro nj real estate
You can find all of these homes and marlboro nj real estate here. Call Bunny and Art Reiman Realtor in Marlboro NJ and we can help you.